Dignitary Member
Supporting Member
On Friday night our local humane society posted a pic of 5 lab/border collie pups. Since we recently had to put down our family pet, my wife was all over this. I really didn't want a dog, but started to waiver thinking maybe I could train this pup to find sheds since it's got lab in it.
So, yesterday morning Kendra, Klay, and Katie went to pick up the new pup. It was a crap shoot which one they would get (if any) since there were a lot of posts on the Facebook listing. They ended up with 3rd pick. Both females went first so she had pick of the 3 boys. They picked out a blonde male and named him Billy.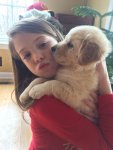 So, I'm looking for any advice on training shed dogs. I've been researching already and most articles say you will get best results with fresh sheds. This dog isn't really ready to start playing games of fetch and getting fresh sheds in a month may be tough.
Anyone have any experience with this? Any tips?