All TOO members, their family and friends are welcome to attend this yearsTOO Shoot and Campout July 24th-26th. Join us for a great time of outdoor events, camping, food and fun.
Main events begin Saturday at 9am and run until dark.
Even if you come to sit around camp and chat with other members you're going to have a good time.
Ri
fle & Pistol Range.
25 to 300 yard range with tables and cover. Unsupervised - Range rules posted at the range. - Free
View attachment 61662
Trap shooting.
Near camp we will be set up to shoot games of Backers and Annie's (Bring clays and ammo) - Free.
If official trap is more your game then you can shoot rounds on the club range for $4 for 25 clays (bring ammo)
View attachment 61663
Fishing.
Bring a pole as the club pond is fully stocked with large Catfish. (Free - Catch and Release)
View attachment 61666
Archery.
There are large bale targets at the camping area at specified yardages. The bow club that used to have 3D shoots here is now gone however the wooded trails and stations are maintained. We may sett up a course at some of these stations to challenge your shooting abilities.
Camping.
The main camping area is circled below in red. For those bringing a camper, I recommended that you park in the blue area circled above next to the pavilion and walk the road back to the main camp area. The road is ok for cars and trucks but there is a slight horizontal slope in one place that may pose an issue for campers. If you decide not to bring your camper back you can set up in the blue circled area by the pavilion. (A donation of $10 a night per Tent / Camper is appreciated to assist with grounds rental fees)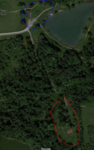 Location
Logan County Fish and Game Club
2056 US-68
Bellefontaine, OH 43311
Dates:
July 24th through the 26th (Fri - Sun) with main events taking place on Saturday the 25th.