This season will start as last season ended, pursuing the buck of my dreams. I didn't have a journal last season, so a little history for those that don't know it.
I have hunted a buck that I call Splitter for the last two seasons and will be in hot pursuit again in a few weeks. Well actually I hunt him all year round with trail cameras.
The first time I saw this buck was on a trail camera photo in early June 2011. At that time I had no idea this deer would impact my hunting like he has.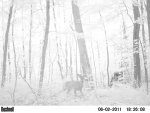 By mid July of 2011 he had started to show some real potential. At that time I noticed the split in his left ear and that his right brow was split also. From that time on he was known as Splitter.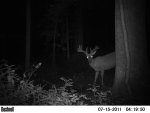 In mid September of 2011 he was the best deer frequenting my property and the deer I knew I wanted to take.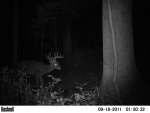 I hunted this buck hard that season, but never had an opportunity to encounter him. One evening I thought I caught a glimpse of him in November, but it wasn't a positive ID of him. Ohio gun season, late ML season and the end of archery season passed and my mind wondered if he had survived.
Early spring of 2012 I had three trail cameras out hoping to catch him alive and well. Sure enough on June 3 he shows up at my Trophy Rock. To say I was happy to see him was an understatement.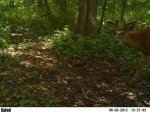 By mid July he looked almost identical to the year before. Again my target buck that fall would be Splitter.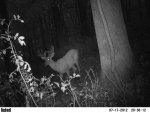 That fall he was more elusive than ever. I only had him on my trail cameras twice during the hunting season, both times after dark.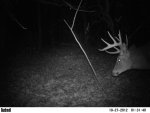 The Ohio deer deason ended and again I was concerned with his fate.
During the winter of 2013 I knew I had to make some changes. I had decided to make some major moves. I had decided to built a barricade of brush from treetops from trees that had fallen the year before. I was placing this barricade just west of a rub/scrape line that ran north and south on my property. This barricade would be approx. 60 yards long. After my buddy and I completed this I then moved my Porta-Pot stand to 30 yards east of the barricade towards the south end of the barricade. I set up there knowing that most deer follow the rub/scrape line north to south most of the time. The idea was to keep the deer east of the barricade and have them cross between my stand and the barricade. Also I can see good to the north from my stand and that should give me plenty of time to identify particular bucks as they approach. Only time will tell how this works out, but I gave myself an "A" for effort.
Spring came and once again three trail cameras hit the woods searching for Splitter. My efforts were rewarded on May 24 when the familiar shape of his early rack was caught on camera. And yes, he was headed south and just to the east of my new barricade. He had came by just the way I had hoped he would.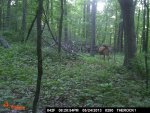 This summer he has proven to be pretty elusive, but at least he is still roaming my area. I haven't got a real good photo of him this year, but best I can tell he is sporting 15 points and is definately the deer I want again this season.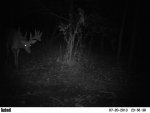 In a few weeks the hunt will continue. I'll do my best to give you all the play by play action. Hopefully this is the year that my hard work and determination pays off. If not, I will still be enjoying my time spent pursuing the sport that makes me tick. Grab an easy chair and follow along on my adventures.
Last edited: