I've brought a couple of new bows to their first arrows in the last few days. too damn wet for me to work at the job that makes me money, so I've been working at the job that makes me happy instead. I took some pics of some different bow designs to send to a potential young bowyer who is wanting to take the plunge into wood bowbuilding. thought some of you might find it interesting. or at least amusing.
from left to right, the first three are still under construction but have all been shot and are ready for the finish work. bamboo backed osage static recurve, bbo straight flatbow, bbo deflex/reflex flatbow. next is a finished D/R bbo that I hunted with last season and a snakey osage selfbow with a large knot hole in the upper limb.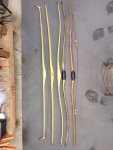 same bows braced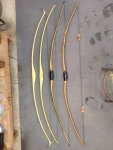 close up of limbs showing the backs of a few bows, the belly of selfbow and the siyah on the bbo static recurve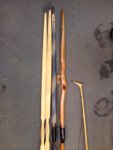 the buck I shot last November with the finished D/R BBO in the pics above.