Got a buck that was shot in his back right leg,(broken above the knee) He has survived so far, Shot back in October,
Question is have you guys had any history of this happening, and then seeing them the following year, if so did you see any abnormality in antler growth.
This buck was in the 160/170 class,he has lost a lot of weight, also shed antlers early.
With feeding him i think he will survive, he disappeared for a while, then came back, disappeared again, now looks like he's back in his safe place.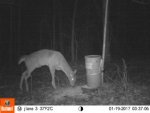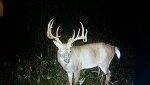 Last edited: