Well we fished our tourney last weekend, arrived there Friday afternoon and by the time everyone showed up it was around 6. We all went too dinner and had a good time. We stayed at the comfort in on12th as its a perfect setup for boats with ample parking and electrical hookups too charge our boats at the end of the day.....
Saturday morning we blasted off and hit the main lake with three footers and lots of boat traffic heading out.... We were looking for 55' of water with a hump coming up too 45' with lots of rock on it.... We guesstimated at the coordinates and missed it.... We looked for over an hour but blanked.... Got beat up looking for it from the waves....
Headed back into the bay too regroup and come up with another game plan... Fished the channel in between the bay and the main lake and blanked there as well...
Had a visit by the coast guard for a safety inspection and all went well there... They were actually very professional and courteous....
A buddy of ours went out with us when we were looking for that hump in 55' of water and after we gave up on it he stayed out.... We got a text for him saying the lake had laid down from the earlier 3 footers....
He said he was 2 miles east and was catching fish if we wanted too come back out....
We left the channel and headed out in 1 footers and a much more comfortable ride.... We had a south wind now and setup on a drift from 5' of water.... Within 100' we had our first keeper..... Unfortunately 3 hours later and a bunch of short fish with the occasional sheep head that's all we had too show....
We went back into the bay too try and salvage a limit just too keep us in for day 2...
We fished boat docks and ended up with three keepers at the weigh in (4 fish was the limit) with 6.2 pounds and 8.4 lbs for first place with 2 boats tied....
Spent the evening drinking beer cooking out and BS'ng about our day and stuff.... Corn hole boards came out and the trash talking started lol... I had more fun listening too the trash talking lol....
I hit the hay earlier as my body was beat up lol... We fished 10 hours Saturday and Sunday was going too be 6 hours so the drive home wouldn't be as bad and getting home at a decent hour....
Our buddy who was out on the main lake with us had three fish as well but had a good pound on us for day one weight.... We figured we were in last and he was a pound ahead of us and we basically had nothing too lose and might as well swing for the fences.... We hit the main lake and went too the exact same pattern we caught the fish on out on the main lake.... Our fist drift was a keeper with a short fish.... Second drift a couple of short fish... 3 drift a nice 17" keeper.... We drifted for 5 hours and had a nice limit.... We figured we would need 12 lbs too be in the money and we were hoping were were close.... By in the money we figured 3rd place.....
Our buddy didn't do as well, he struggled and we even have him the same baits we were using.... Just goes too show its not as easy as it looks lol....
Well we gave ourselves plenty of time too make the run, idle and run too make it too the ramp... We ended up coming in 15 minutes early but that didn't bother me as I'd rather beat the rush lol....
We started the weigh in and we weighed in last and ended up winning it by two ounces.... Go figure.... One of the leaders blanked.... The other one stayed in the bay trying too get another limit then came out later too the main lake and blanked out there.... Third place had 3 fish....
We had 10.6 lbs and won by 2'ounces.... Sometimes you just have luck on your side.... And this is why I do what I do.... lmao.....
Not much money in it, helped out with some of the cost and gas, but we had fun and enjoyed the company of some folks I've known and fished with for 10-15 years.... Had some laughs and some WTF moments but all in all a great weekend with a great finish.....
Forgot the pictures lol
First day biggest catch lol Saturday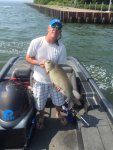 Sunday's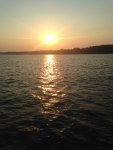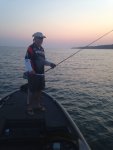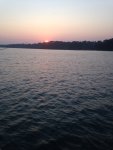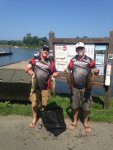 Last edited: