Congrats to our very own xboyguy for knocking down a slammer of a buck this fall! Rick's 8 point is one of the most impressive deer taken by a TOO member during the 2012-2013 season. Add in the fact that his better half Diane and the famed ZJ also knocked down great bucks, it certainly was a season to remember for the xbowfamily!!! Congrats again on a great buck Rick!!!
------------------------------------------------------------------------------------------------------------------------------
My 2012-13 season was just like the other 35 seasons I have hunted. I had a well thought out plan that turned into something totally different. When it comes to whitetail deer, you can definitely plan your plans, but not the results!
I got a late start running our trail cameras. Usually they are out about the 3rd week of June. This past year, I didn't get them out until the last week of July. On the first camera check a descent buck showed up that got my attention.
As the weeks went on, this deer showed he was willing to be a regular on our property. When these two pics showed up on cam.......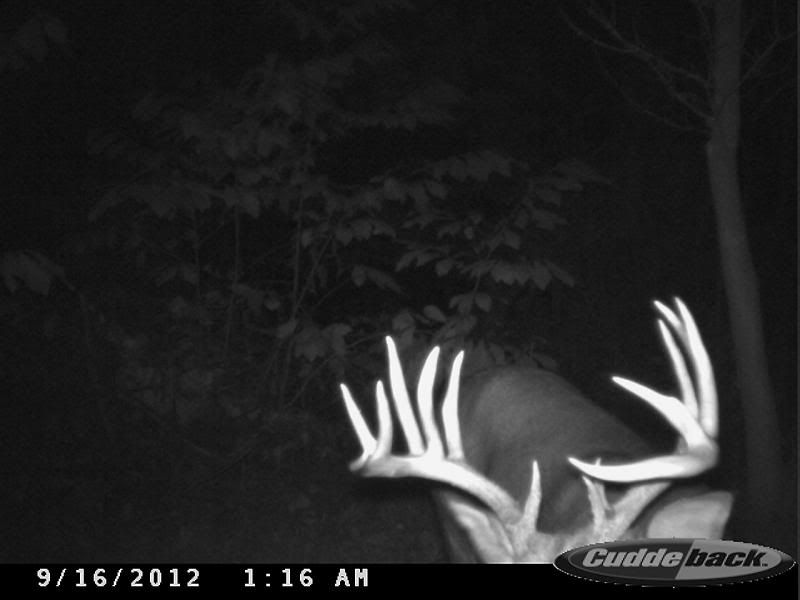 I was starting to feel pretty cocky that I was going to place a tag on him for sure!
When season arrived, my hunting of this buck was disturbing. The people traffic and noises was interrupting the deer movement. I attempted to hunt him 4 or 5 times and it was nearly impossible with people always on the property next door making noise.
I decided it was time to hunt a different location to see what was going on in the evenings. On October 22, I saw a 150ish 10 point get up out of his bed and put on a little show of adrenaline for me. He started my way but decided to make a rub and head the other way. Needless to say, it was not my target buck, but he was good enough to go after again on Sunday evening.
I had been tossing around this "smoking up" thing and thought I might give it a try. I cut a 2" hole in my storage tub and smoked the devil out of my clothes. I then smoked everything when I was ready to head to my stand. I remember thinking "I guess it can't hurt none!"
The evening turned out to be rather boring at first. No deer or squirrels showed at the bait pile for entertainment. I thought several times that I should just go on to the house as nothing was going to happen. I know you can't get one from the couch, so I often talk myself into "Just 5 more minutes". This had been done several times until I just couldn't talk myself into "5 more minutes" any more.
I reached over my left shoulder to get my quiver and when I looked down at my pile, there he was.........eating pumpkins at the bait pile. He had come to the pile on my entrance trail. This buck came from a direction I had not been watching because of the scent left from my approach. The smoke must have covered my scent and there was the proof! 8 Points. Length. Mass. And a huge body....... Time to shoot!
This fella was moving quite a bit while eating. I had the crosshairs on him and he just wouldn't stop moving. All I needed was for him to stop moving around and I could at least get a shot. After what seemed like 30 minutes (more like 2 or 3) he finally stopped and I pulled the trigger. The arrow made a deep hollow "Thump" when it hit. First thought was it had been good... but there was no bronco-kick or staggering. He just trotted up the hill and disappeared.
Taking my shot for granted, I got careless and climbed down instead of waiting for about 30 or so minutes like I normally do. I retrieved my arrow and headed for home. At the house, I started questioning my shot as noticed the arrow was covered in clear liquid and not much blood. "Oh no!!!" was racing through my mind over and over.
After telling Diane how it all unfolded, she informed me that about 20 minutes before I shot my deer, she had shot a buck as well. At this point, I was glad for her but knew it was going to be a long night ahead for us both.
A friend of mine stopped by and we went over the details and arrow. We decided I would look for blood but back out with the slightest doubt. About 25 yards up the hill from the shot, blood finally showed up. We followed it over the fence and into a thicket. That is when we heard him bust out the other side and head down the hill to the east. I felt sick that we had bumped him out of his bed.
We waited for a few minutes and went around the thicket on a different well worn deer trail. I wanted to check a particular fence crossing for blood. Once the blood was found there, we decided to back out and go after my wife's buck and try to get some sleep.
The night took forever! We waited until the day was bright and headed to the fence crossing to look for my deer. Several times the blood faded to nearly nothing. We use peroxide in spray bottles to help determine blood or not. About 300 yards into the tracking job, we found my deer lying near a fence. He had run a fairly straight line down the property and finally laid down for his final rest. I have had ground shrink on deer before, but this time it was not happening.
Though hunts don't always turn out like we planned, each one is to be Grateful for. We get to enjoy a part of the outdoors that a lot of people will never even see. And every hunt has its own level of learning and excitement.
Oh, and by the way. The pass on my "Target Buck" was very short lived. My boy put him down Halloween Night!