Due to a couple of busy schedules and some email issues, it has taken a little longer than usual to get our BOTM posted this month. But have no fear, we are ready to roll with our June installment of a TOO classic! This month, we celebrate a buck that was a "redemption" buck of sorts. It certainly is a deer that helped ease the lingering memories of a missed shot earlier in the day! Congrats to Derek on his fine 2011 archery season buck!!!
My 2011 Second Chance Buck
The day started out the same as any other day. I had been hunting hard for the past few days, hoping that something big would finally step out in front of me. That morning I set up in one of my favorite spots. The tree is 20 yards from a tractor path that is a very heavy travel route for the deer. I watched all morning as a few does and some young bucks passed within 20 yards of me. Watching all the young bucks and does, something started to click in my mind. As they crested the hill 30 yards above me, all the deer would stop and get spooky. Every deer that came throug would then take aln alternate route aroud the path. I figured there must be a good buck or a predator somewhere close, and I was determined to find out which one it was.
I got down out of my climber and started towards the back of our property. As I crested the hill, I started scanning the area. As I was walking along the path, a doe got up and started walking away from me at 40 yards. I then noticed the big buck that was laying down 20 yards away from her. I had to think quickly, and decided there was no way to get any closer to the bedded buck, So I elected to crouch down and get up against some weeds along the path. So here I am, sitting in the middle of the tractor path, completely exposed. A smaller buck came up onto the path first, and I figured my chances had just went from slim to fat chance in a matter of seconds. The forkhorn just looked at me a few times, then proceeded to walk off. Then the big boy started my way!
I got my bow ready and tried to guess on where he would come up at. I drew my bow back and held for a minute or so, waiting for him to clear the weeds and present a shot. As soon as he got to the top, he turned, seen me, and blew at the same time I released my arrow. I gave him a shave on his back, and then watched as he ran off about 60 yards and then went back to his doe, walking off and leaving me scratching my head. Whether I flinched when he blew, or just plain whiffed, I was devastated. Its not very often you get a good buck on our property, and I just blew maybe the only chance I would have.
I went back to the house to get some food and to recharge. I went back out that night, and found a good tree close to where I missed the buck that morning. I was in the tree for a few hours when I heard some deer running through the woods. As they came closer, I saw a doe being harrassed by two bucks, one of which was a shooter. As he ran the doe towards me, I stopped him 25 yards slightly quartering to me. I touched off the release, and watched the arrow hit its mark. He started running towards the neighbors property, so I grunted quick and he stopped, turned around, then trotted off about 40 yards the other way. He died 50 yards from where I shot him! I got down out of the tree, and started over to get hold of my buck. As I got up to him, I noticed that he had his left eye gouged out while presumably fighting, and it was a fresh wound. He was chasing tail right up to the end!
He may not be a giant, but it was a great hunt, and a great way to redeem my blunder of that morning. He is my biggest buck to date, and I am very proud of it!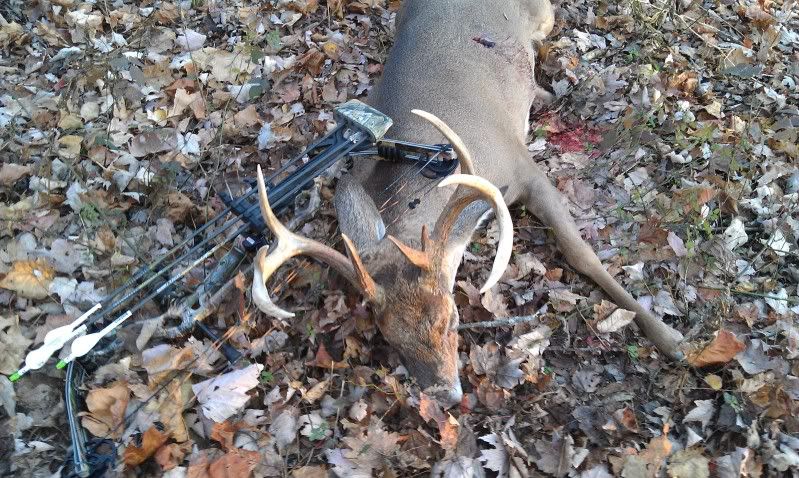 The article can be read here...
http://www.theohiooutdoors.com/showt...645#post157645