It is that time of the month again for the TOO community!
No, we're not dealing with a visit from Aunt Flo!!! It is time for another TOO Buck of the Month and this time, Scott Schuster and his son Ethan provide us with a double-dose of success. Although I do not have children of my own, I can only imagine the sense of pride Scott felt when Ethan added to the Schuster family success story for the 2011-2012 season. With many years of hunting before them, the Schuster men are staking their claim as a dynamic duo of deer slayers!!! Congrats to both Scott and Ethan on a fine season!!!
For the 2011/12 deer season I would have a new tool, trail cameras. I have wanted to start running cameras for years, but the thought of them getting stolen always kept me away. I finally broke down and purchased two for the upcoming season. I ran one camera at a property in Geauga County were I killed my buck last year and placed the other on my motherís property in Belmont County. My excitement was short lived. Most camera checks showed only does and a few young bucks. HeckÖat the Geauga property I was getting more coyote pics than those of deer.
Iím not much of an early season hunter and this year was no exception. The first several weeks came and went with little seat time. What little seat time I was getting was unproductive. I was skunked on my first several outings. I finally made it down to Belmont County the weekend of October 14th. During the weekend I saw 22 deer, but only one buck. The camera wasnít showing much either. The following weekend I hunted at the Plumbrook controlled hunt. I only saw four deer total, one decent buck that I could have killed, but chose to let him walk. Later that afternoon, I took a doe.
The weekend of November 3rd found me heading back down to Belmont County. I got off work a little early and headed down to Momís. I got there about 2:45. I went in the house just long enough to say hello and change clothes, and over the hill I went. I ended up seeing eight deer that evening, a wide 4 point being the only buck. After the hunt I pulled the SD card and was shocked that a nice 8 point had walked right under my stand not 20 minutes before I was in it. He also made an appearance the day prior.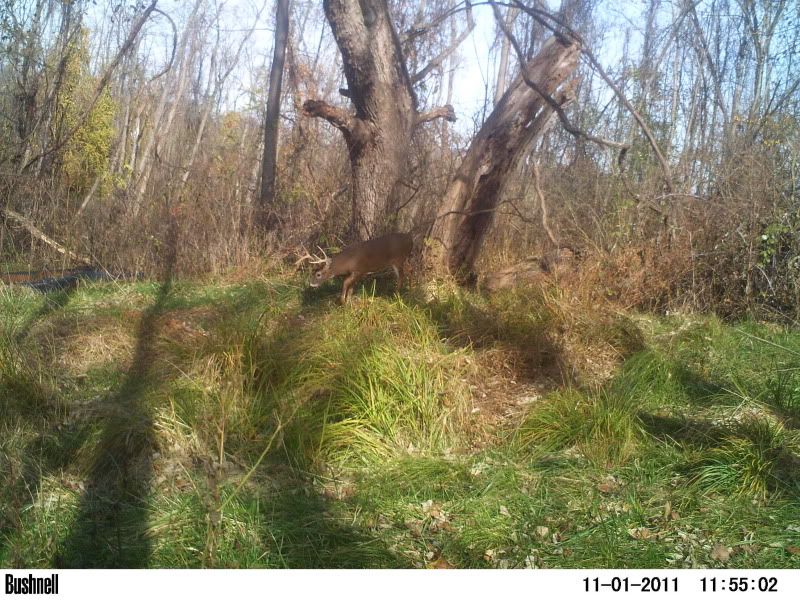 That evening I reviewed the cams a little closer. There were several nice bucks using the trails around my stand, but a good deal of their activity was at night or first thing in the morning. Based on the camera intel, my plan for the morning was to be in the stand a good hour before shooting light. I wish I had put as much thought into what to wear as I did into the hunt itself because it ended up much windier than expected and I was way underdressed.
As time passed and I could finally start to see color I was pumped to see what would materialize. At about 8 am I heard something behind me. One of the small bucks I had on camera paid a visit. He walked right under me, just like I had envisioned on of the shooter bucks doing. About 20 minutes later I caught movement at the far end of the property. This looked like a pretty good buck. Unfortunately, I was only able to get the binoculars on him for a few seconds. At this point I also noticed a small doe feeding out in the middle of the property. She fed for the next hour with no bucks coming to check her. By 9 am I was really cold. I had stuffed a body warmer down my shirt earlier, but it wasnít cutting it. I debated if I should make a quick trip to the house to change, but decided to try and stick it out. Iím glad I did! Shortly there after, I spot movement at the end of the field again. The bigger buck is back. I put the binos on him and I thought he looked pretty good. I still didnít have a great look at him due to some limbs, but he definitely had my interest.
The buck was facing away from me and looked like he wanted to head back to the up hill bedding area. It was really windy and I didnít think he would be able to hear my grunt tube, but I tried anyway. I kept getting louder and louder until it really didnít sound like a kid blowing on a Kazoo. He never looked my way. For some unknown reason, before I left for this trip I packed an old rattle bag. I have had this thing for over 10 years and never had a deer respond to it. Not sure even why I tried. Anyway, I waited for the pauses in between the gusts of wind and was hitting and rolling the bag as loud as I could. At first nothing but I kept at it with every pause in the wind, and then he turned and looked my way. I couldnít believe it, he actually heard me. The next thing I know he is walking to me on a string. He closes from 125 yards out comes right across the saddle and is walking up hill straight to me!
At this point Iíve put the rattle bag away and my release is clipped on my loop. The buck is 30 yards and closing steadily. In over 25 years of deer hunting, I never remember being this nervous. I think because he was staring at me as he walked up hill I just assumed he would pick me out. He didnít but he paused and started to turn to my left. Not good. I shoot lefty and these crosses me up. As if by Devine intervention, the buck stops and turns 180 degrees and starts back to my right, lowers his head and starts to feed. I draw, center the 20 yard pin and squeeze the release. The buck tears off back down the saddle, running out through the field and making a large semi-circle and cuts into the woods. I turn to grab the binoculars when I hear him crashing. I can see the trees shaking, but then suddenly the deer comes back in the field and races toward the lower back corner. I gave him an hour because he was near our property line. He died just inside the tree line. He wasnít quite the monster I was dreaming of, but I was very happy with my first compound bow buck.
One final chapter to this story jumps forward two weeks. I had my eight year old son Ethan out for his second youth deer hunting season. We did not even see a deer last year. This season started out the same. No deer were spotted on the farm property in Barnesville, Ohio. We planned to hunt the evening from a ground blind at my momís property. We got home and set the blind up at around 11 oíclock. We just got back to the house when I look out the window and see a nice buck walk over the hill right to our ground blind. Just our luck. That evening we were first visited by 3 does. All three of which were within 8 yards of the ground blind. My son wanted to shoot one so bad. I had to keep reminding him of all of the bucks on the property. A short time later a buck showed. He came from behind and caught us off guard. As I was positioning him for the shot we got busted and the buck slipped into the woods. Ethan was crushed and upset with me that I would not let him take a high risk shot at the buck.
The final morning of youth season has us in the blind by about 6:20 am. At about 6:50 I spot movement at our 2 oíclock. I whisper to Ethan that I see a deer working down the tree line. He gets his .410 up on the bipod and we get the red dot scope turned on. As the deer gets closer we can see he is a pretty good buck. The buck continues to walk down. the hill directly in front of us and stops broadside at 35 yards. Ethan is cool as a cucumber. I ask him if he has the dot on him and he gives me a quick yep. I gave him the go ahead and he dropped the hammer. The buck dropped immediately! I grabbed the gun and pumped another shell in. The deer was thrashing a bit, so rather than have him take another shot from that distance we hurried out of the blind and dispatched him at close ranged. Ethan just kept saying ďDad, I got the big buck!Ē over and over. He had his first buck down at 6:56 am on day 2 of youth season. I couldnít have been prouder. One the drive home I even had to deal with him telling me that he thought his was bigger than mine! I was grinning from ear to ear.
Here are a few pics of the mounts, thanks for reading our story...