The Sword Sights company previously Sword Accusite was started by Daniel Sword. Sword Sights were originally made in Kentucky and as of 2010 are produced in Ohio. Sword will build any of their sights to your prefences and you have lot of features to choose from. Things like different lights, fiber optic colors, pin sizes, and number of pins are all things you can pick and choose from when you order you Sword Sight.
I will be reviewing the Sword Sights Apex 3rd Plane sight. I ordered my sight with four .019 pins and the last two pins are .010. I also ordered my with an 6th pin and the 3 phase light.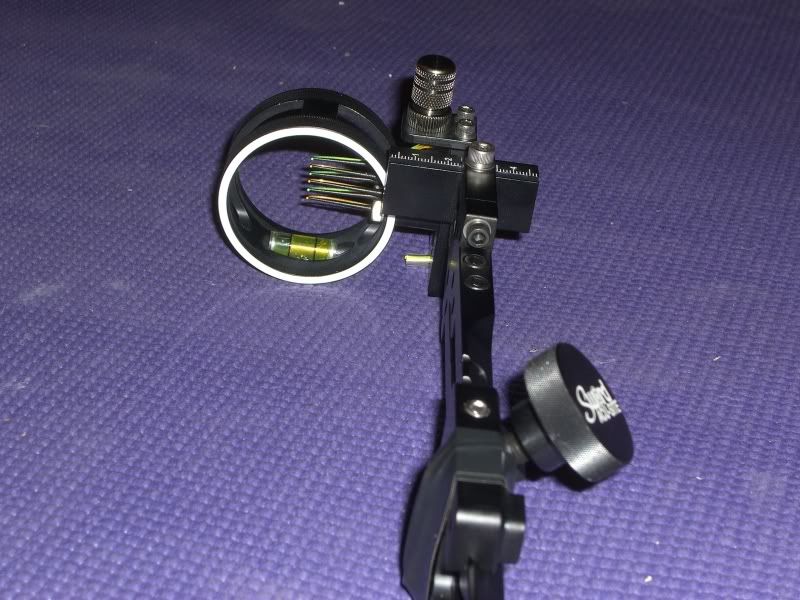 The Strong Points
1. Durability. The sight is made from machined 6061 aluminum and the pins are made out of steel.
2. Cost. This sight costs less than the competitorís similar products.
3. Great customer service and a support. Sword Sights Sales staff were very helpful when I ordered the sight. Sword also sent replacement parts free of charge.
4. 3rd plane adjustment that works.
5. Good fiber optics. The fiber optics on this sight are bendable unlike the Tru-glo type fiber optics. This increases durability of the sight. They also transmit light well.
6. Double retained dovetail bracket. The dovetail bracket on this sight has a screw nob and a ball bearing that engages detents on the dovetail arm to make sure your sight stays on your bow.
Dislikes
1. The sight requires an additional kit to add an optic lens. However this is not an issue for most shooters.
2. The Pins are not truly ďzero gapĒ
3. The level freezes below 20 degrees Fahrenheit.
Things I would change.
1. I removed the semi opaque plastic cover because the fiber optics are protected well enough without it. The cover limits the amount of light that gets to the fiber optics. The fiber optics are additionally protected inside a clear plastic tube. The older sights didnít have this cover anyway.
2. This sight has five different sizes of hex head adjustment screws. This could be reduced to 2 or 3. Doing so would reduce the number of hex keys the shooter would need to adjust the sight.
Over all this is a very well made sight for the money and I recommend it to any hunter/ 3d shooter that wants a value priced 3rd plane adjustable multi pin dovetail sight. Iím very impressed with the durability of this sight. Iíve hunted in three different states with two of these sights and they have never let me down.