It is high time we get back on the BOTM train and there is no better way to kick things off than a story of opening day success from the 2011-2012 deer season! I've had the pleasure of meeting this young man and it is refreshing to see some quality outdoorsmen present in the next generation. He and Diablo serve as "little brothers" to the TOO fraternity, but these boys can certainly hold their own in the hills and hollers of this great state! Congrats to Jake Gray (AKA: Moundy) on his great opening day buck!!!
2011 is a year that came with a lot of firsts for me. My season started out like one that probably never will again…
We'll begin in the summer. One of my main goals was to do a lot of scouting and get into trail cams more than I had before. I started out with an old Bushnell and Wildview cameras, running both on different chunks of land to hopefully get some deer patterned. During muzzy season in 2010 (my 1st season hunting this farm) I remember walking into a chunk of woods about an acre and a half thick located about 200 yards from the landowners' home, and some 80 yards from a road. As I slowly walked into the woods, a big buck jumped up and ran off. Unfortunately, I was unable to find him through my scope. So I walked down to his bed and looked around, and there was deer sign everywhere… A trail here. Trail there. Intersection here; along with several beds and a good field above them. I made sure to make a mental note of this spot for the 2011 season. When I first went to hang cameras this summer, I knew exactly where I wanted to place it. So Diablo and I headed out on the four-wheeler with a bag of corn and the trail cam in order to get a good looking set up going.
After two weeks, I finally had some good action coming in to my set up and it wasn't all does or scrub bucks. The first good buck was a somewhat tall 8. This was the first shooter I had ever gotten on trail camera, so I was pretty excited about it. After the first successful card pull here is what was lurking in my neck of the woods…
The 8
Here is a buck I named Freak. His antlers will show ya why! I'm assuming he was hit by a car, judging from the way he walks and his rack…
After around a month of nothing more to show for my efforts, I had the 8 point come back in… but he wasn't an 8 anymore. He had grown split brows AND decided to start visiting during daylight. My mind was made; I'd shoot him given the chance.
After finally getting my SpyPoint, I put it out and had some great deer come in to my set up. Never in a million years would I have thought I'd be getting this many deer on my trail camera the first year doing it on my own. Here's some of the pre-season hit list...
(BTW… These two made it through both gun seasons.)
Cont...
So back to my opening morning story...
Diablo and I had hung a stand in this area and I felt very confident coming into the hunting season. I shot my Fred Bear all summer and after 2 robin hoods...another first for me... I felt completely confident. As the season got closer, I got more and more anxious. At school my buddies and I would talk deer all day and that had me even more jacked to get up in a tree.
September 23rd –
The Friday before opening day, I headed over and shot some at Diablo's. This was my first year using G5 broadheads and they didn't group how I had really wanted them to. However, I knew that out to 35 or 40 yards, I was set. I just had a feeling things were going to happen the next morning. I put my Bear in the case, put it in the Jeep and headed home to scent up and get some… well try to get some sleep. I got home, hung up my clothes and fired up the smoker. This was my first year using the Scent Smoker and I'm in love. I felt confident my clothes were good and smoked, so I put them in the tote and headed inside to watch some hunting shows, eat some deer meat and get some shut eye. I set my alarm for 2 hours before daylight knowing I wanted to be in my stand well before light…
September 24th –
The big day! I woke up prior to my alarm, put some waffles in the toaster and got a pot of coffee burning. After a peaceful breakfast, I got dressed in my early season clothes, smoked up once more and loaded the Jeep. I knew I was on time, or even a little ahead schedule, but I remember looking down at my speedometer and seeing me going 10 over in anticipation of getting to my spot! I finally arrived in Vinton County at my spot and turned off my Jeep. I remember sitting in the silence in my Jeep for a few minutes, thinking and getting mentally prepared. On the walk down the road to my stand, I spooked a few deer in the field, and they ran right past where my stand was hung... Dang! A little confidence was gone, but I still had
THAT
feeling. I climbed in to my hang on as quietly as possible and settled in for the morning hunt. I texted Dad to let him know I was in the stand and ready to go, then waited for the morning to unfold.
Around 7AM after a few minutes of birds and squirrels distracting me, I heard the distinct crunch-crunch of deer hooves on dry leaves. The sound was coming from behind me; exactly where I had imagined them coming. I slowly eyeball the area where the noise is coming from and see a brown body. Not getting a good look at the deer, I grab the bow and placed it in my lap. The deer was either going to go straight, or turn and come in to my apple block. Without hesitation, it came my way. After seeing it was a buck, and good looking one at that, I made the decision to shoot him and got positioned to make the shot. The deer was walking when I drew, but stopped to take a lick of the apple block. It was a perfect 17 yard shot, slightly quartering to me, but not that much of an angle at all. It was just at day break, so seeing through my peep was tough. So after one more peep around my string at the buck, I knew I had to act fast because the deer was looking at me. I took a deep breath, focused on a spot and released.
THUNK!
That sound made me smile a bit! The deer jumped, spun 180 degrees and took off like a bat out of Hell. At around five after, I reach for my phone, shaking like a freakin' leaf and called Dad. I told him I'm pretty sure I hit him good, but didn't hear him crash. I knew he either piled up or went into the field and expired. Dad told me to sit still and he would drive out past the field. Well I could see the road and after about a half hour, I saw the camo Ford Aspire creeping down the road. He called me telling me he didn't see the deer but we would go back to the house and give him a few hours. I was confident on my shot, but couldn't find my arrow. I though it had to have skipped across the holler...
After getting home and getting some food, we headed back out to track my buck. Right off the bat, we had trouble finding anything. No arrow. No blood. "Could it be? Did I really miss that deer?" Thankfully after looking little ways, we found a few dots of blood, then a bunch of specks, then an absolute puddle. The first puddle was followed by more puddles of blood and it was good, bubbly lung blood. I began to gain confidence at this point. We walked around a little bend and there he was! No more than 75 yards from the shot, there he lay. I literally ran up to him and took in all the details. When I first saw the deer, I wasn't for sure if it was the split brow buck I had gotten on camera, but I was 90% confident it was. I just knew it was a shooter, so I shot! We took some pictures, gutted him and drug him out. Thankfully, he ran towards the house and our vehicles, which made for a short 100 yard drag. We showed him off to the landowner, loaded him in the Aspire, headed for home to take a few more pics and to tag him in.
I'm so surprised that the first deer I saw all year is now hanging on my wall. A season full of confidence and firsts lead me to harvesting my 10 point opening morning buck. If I were to thank anybody it would be my dad. He's the one that got me started on hunting and showed me most everything I know. But it does feel nice knowing that I picked out the spot, hung the stand, and did it all on my own.
Now to the pictures! Where he was laying…
Entrance hole…
Exit…
One happy hunter!
All loaded up! LOL!!!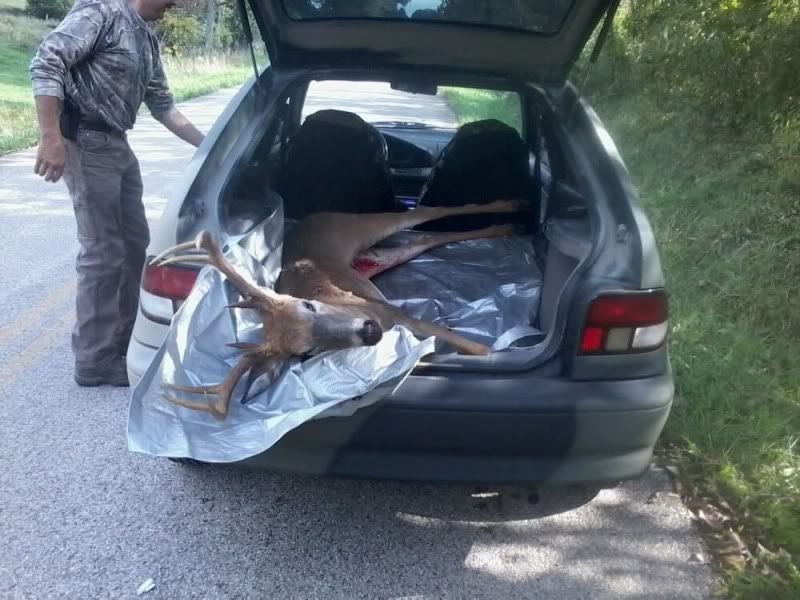 The landowner and I…
Last but not least, my favorite picture…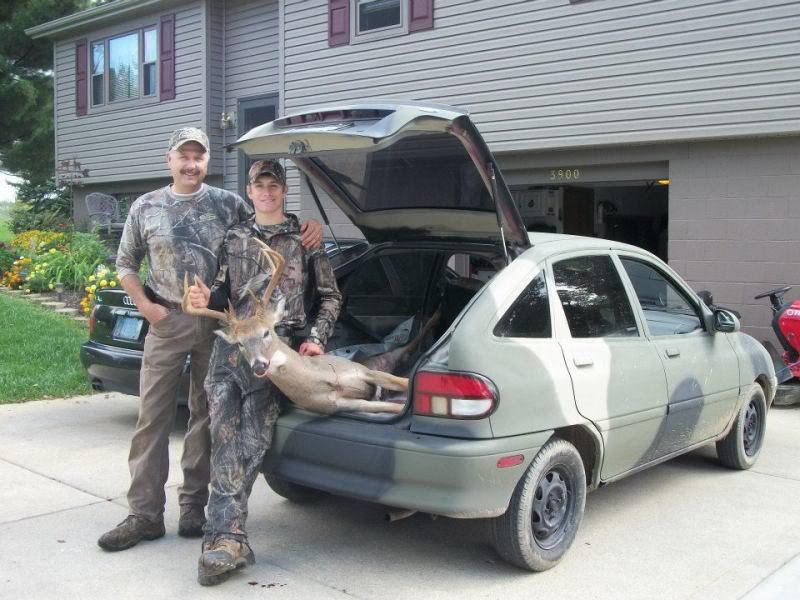 Join the Discussion Here
http://www.theohiooutdoors.com/showt...ng-Day-Success
!