It's time again for another great TOO Buck of the Month! This month we take a look back at the Matt Haramis' first ever buck with a bow. I've known Matt for a few years now and have had the good fortune to see him develop as a bowhunter. He was one of the first successful clients at Sandridge Outfitters and he's been on a roll every since. Congrats on a great buck brother!!!
The morning of Saturday, November 6th 2010 found me sitting in a treestand overlooking a very wet stretch of incredibly thick Trumbull County woodland. The rain had let up the night before, which made my entry into the woods very quiet. Unfortunately, it also made it very easy for deer to sneak up on me without my knowing! Early in the hunt, a small buck snuck in and I barely saw it before he skirted me and left the area. The day wore on with no movement, and I was about to pack it in around 10 or 11 when I turned to my left and saw a very nice buck... WALKING AWAY FROM ME! This buck had to have walked within 15 yards of my treestand without me even knowing it! All I remember thinking is: "Shooter!" The buck was moving away from me, and it would only be a matter of seconds before he disappeared into the thick underbrush. Luckily, I had one of those grunt calls that attach to your forearm. I grabbed my bow and then gave a short grunt. The buck stopped in his tracks and looked over his shoulder for a moment, but then proceeded to turn around and head off on his previous pursuit. This time, I gave him a few louder grunts and he spun and faced the direction of the noise, trying to pinpoint his challenger. I gave a few softer tending grunts and he started marching right towards me. This was it! My heart started pounding...
There he was, getting closer with each stride. 60 yards... 50... 40... 35... 30... He was still coming at me! Suddenly, he looked up, and stared straight at me! At this point, the buck was looking at me head on, and I had absolutely no shot. We were locked in a staring contest, and I strained so hard not to even move an eyelash! After a few tense moments of head bobbing, the buck made a 90 degree turn and started to stiff-leggedly walk away from me, while at the same time turning broadside to me. His head passed behind a tree and I drew back. The buck was still walking, right towards a shooting lane, so I tried to time a mouth bleat to stop him in the lane, but he took an extra step and stared right back at me. His vitals were right above a V between two branches. He was staring and I could tell he was about to bolt. I settled my 20 yard pin right above the V in the branches, squarely on his vitals and let the arrow fly. The buck immediately bolted and ran off like he was trying to put two counties between us, immediately disappearing into the thick undergrowth. I was able to see the arrow fall out of the buck on the opposite side as he ran away. The only thing was, I wasn't confident about where the arrow hit; because of the tree branches, I wasn't able to see the impact. In the past, I have lost deer because I didn't wait long enough to track after the shot so I waited in the stand for at least 30 minutes, then walked down and retrieved my arrow and this is what I found...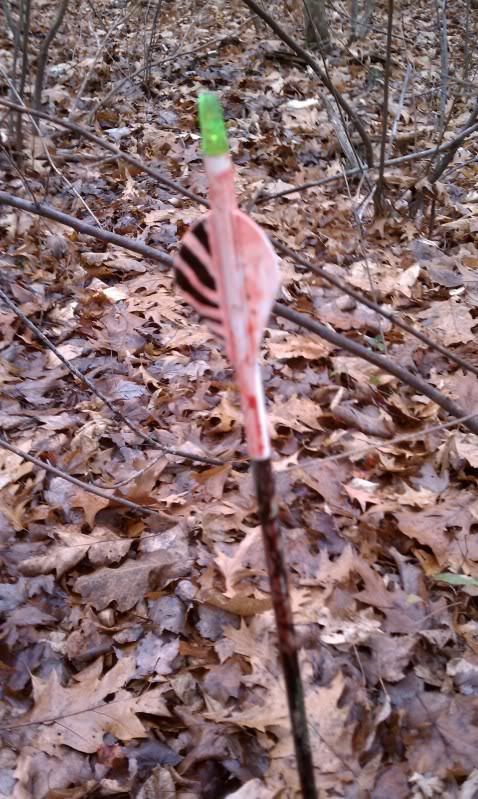 Needless to say, the arrow made me feel a little better but I still decided to back out and wait. I walked the mile back to my car, shed a few layers and waited for about 2 hours and decided I couldn't wait any longer. I headed back to the scene of the crime and picked up the blood trail. At first, it was very slow trailing with only sparse blood here and there. In a few places, I lost the trail and would have to double back and make concentric circles until I picked the trail back up, checking for overturned leaves, snapped twigs, anything that would show me where the buck had fled. After about 75 yards of tracking, I started seeing more blood like this....
I was beginning to feel a little better about my shot, but knew that there could be a chance he was still kicking. Because I had the slight fear my shot was not good, I would stop every few steps and throw the bino's up and glass in wide circles looking for the deer. At about 100 yards trailing, I threw the bino's up and picked the buck out of the scrub. I could only see part of the bucks body and couldn't be sure he was dead, so I started to creep slowly forward with an arrow nocked and ready, all the while glassing him to check for movement. As I got closer, I realized he was indeed down for the count, and my buck was dead! He had laid down in a shallow depression under a leaning tree and perished 100 yards from the spot I had shot him...
One last interesting note of the story: I process my own deer and when I skinned my buck out, I found a slug lodged under his hide right above his guts and below the backstrap. The sabot was welded to his flesh, and the wound had healed long ago. Crazy to think that this whole encounter could have never happened had one hunter been a little more lucky!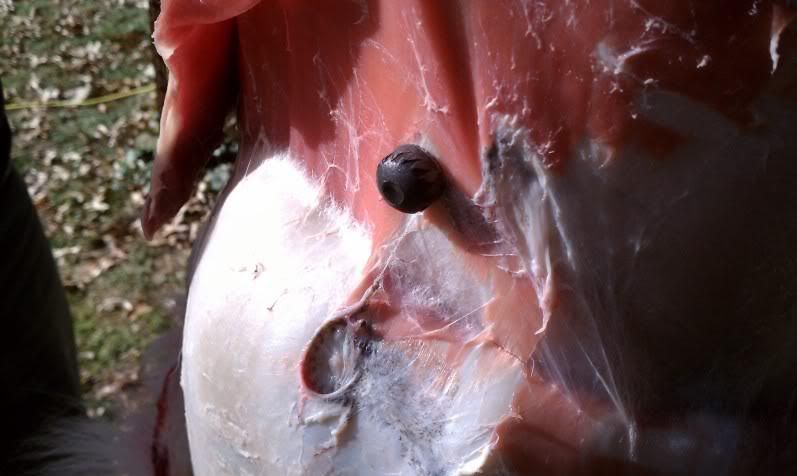 He's a 9 pointer and I believe we scored him around 130" give or take a few inches. I never really dwell too much on score, all I know is that he now sits in my TV room and I catch myself staring at him. When I do, all of those feelings of the day I made my first archery buck kill come rushing back to me and I relive every heart-pounding minute!